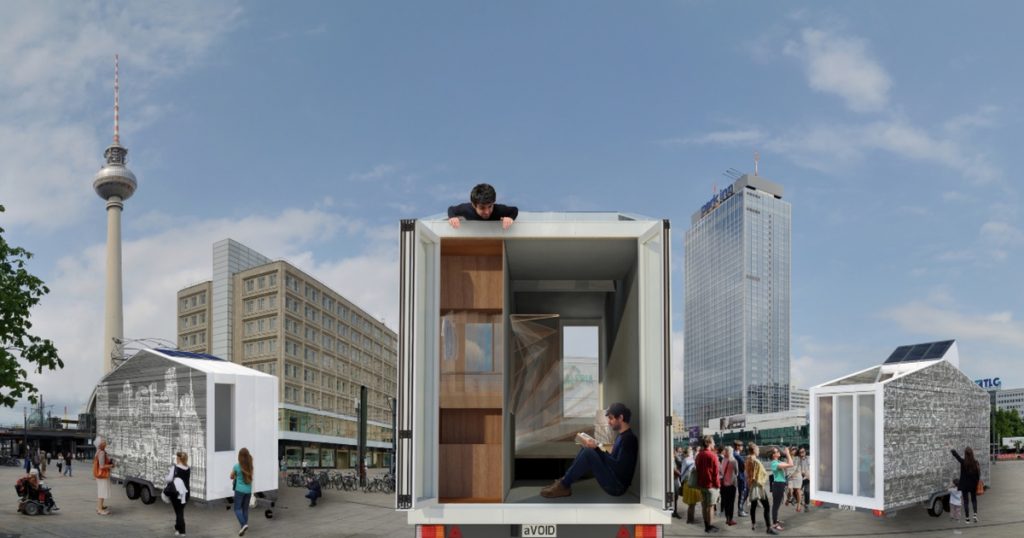 Beltrami took part in the artistic and architectural project aVOID – Tinyhouse University Berlin Headquarters by young Marche-based architect and engineer Leonardo di Chiara, coordinated by architect Van Bo Le-Mentzel.
"aVOID is nearly completely made from wood: the main frame, the convertible furniture and the insulation. The choice of this material is not random and is not only dictated by technical considerations. The DIY material par excellence is wood, with which everyone has had to deal with at least once in their life. The DIY construction experience is able to create, as was the case for myself, an unbreakable bond between the house and the person who lives in it. Wood is therefore the bearer of a message, in other words, of domestic warmth, which, in a house on wheels, can be taken with you on all of your travels. This sensitivity to materials gave rise to the collaboration with Beltrami, who – thanks to its advanced production methods – has found a way to shape the hardness of wood into the fabrics used throughout the aVOID house." Leonardo Di Chiara
The project forms part of the experimental village set up within Berlin's Bauhaus-Archiv, one of the most important design museums in the world.
aVoid is a true miniature house – with a surface area of only 9 m² (length 5.10 m x width 2.53 m x height 4 m) where everything must be made to measure and must be indispensable and portable.
Beltrami has taken up the challenge of housing experimentation and innovation, designing for this first edition a completely Made in Italy Tinyhouse, with tailored creations in "Autentica fibra di Legno Beltrami", a fabric made from birch wood pulp in an exclusive production process.
Talent and skill, combined with Beltrami's artisanal and sartorial experience, have created, exclusively for aVOID, the blanket, towels and table linens, which will allow to live comfortably even in the small spaces of the Tinyhouse.
Until March 2018, aVOID will be part of the Bauhaus Campus exhibition (9 March 2017 – 9 March 2018) within the garden of Berlin's Bauhaus-Archiv/Museum of Design: an experimental village located in the museum's park in which the 20 "tiny houses" will be the homes of their respective designers for the entire exhibition period.
View all articles